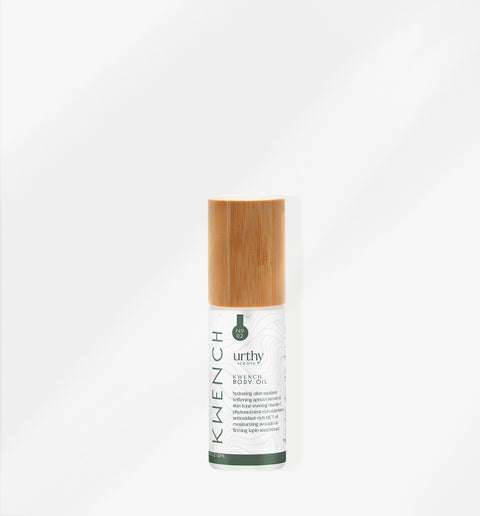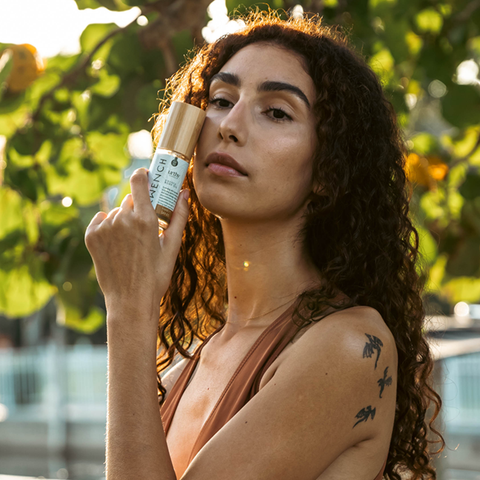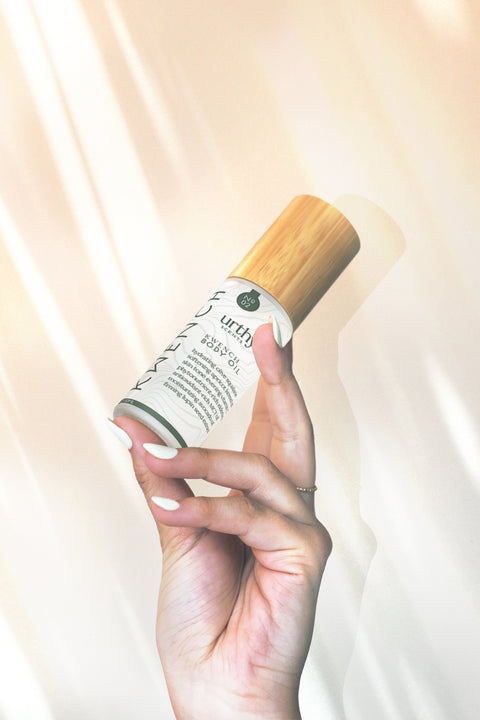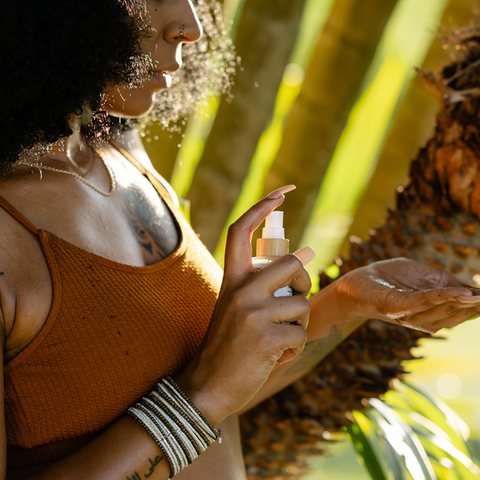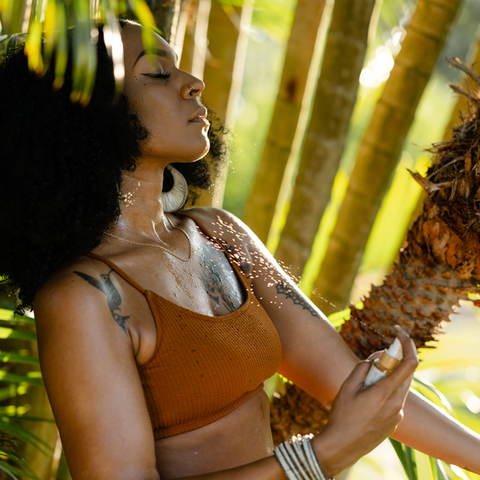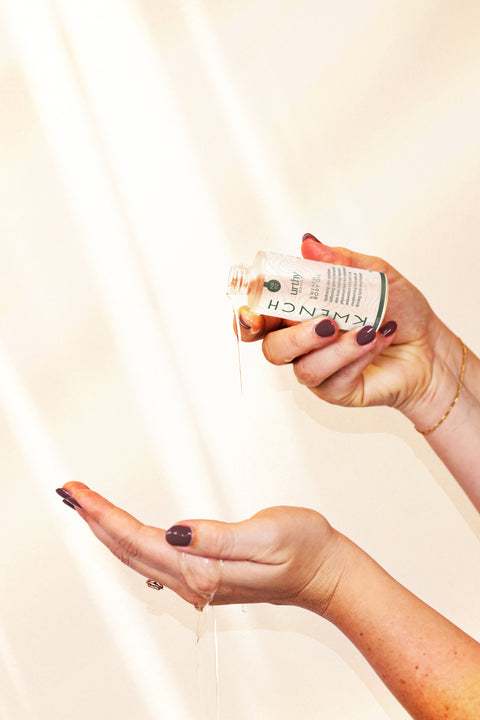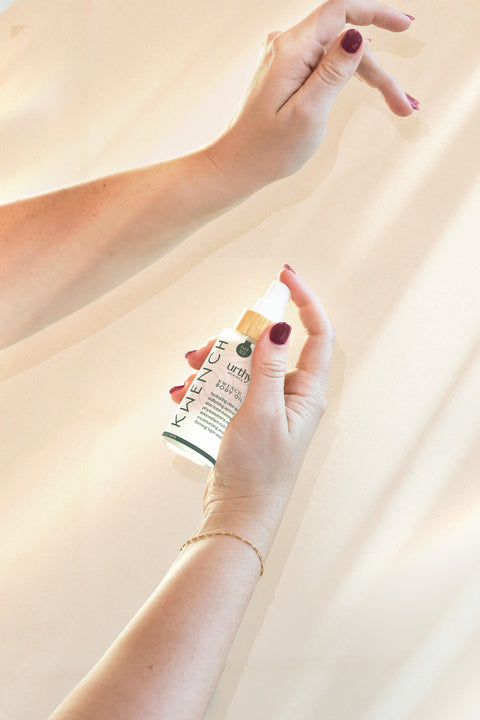 Healing Garden
Silver Sage Body Oil
Silver leaf sage freshly muddled with bright sea salt and eucalyptus grounded with tonka and oakmoss and a hint of vanilla for a sweet finish.
-----------------------------------
Details
GLOW from head to toe!

Kwench body oil packs a one-two punch of hydration + moisturizing. Hydrating ingredients attract water to the outermost layer of the skin, while moisturizing ingredients lubricate the skin to prevent water from escaping. Boom.

This botanical blend of specially selected ingredients is designed to help soften, smooth, and brighten the skin while also improving the look of skin firmness and elasticity. The rich yet light-weight formula absorbs quickly, so you can apply, get dressed, and look positively radiant while you face the day with confidence.

This rich body oil is light and absorbs quickly. It leaves your skin silky smooth and hydrated without being sticky. Key ingredients are squalane, oil-soluble Vitamin C, and Collageneer.

This product is vegan, cruelty-free, contains no parabens, formaldehyde-releasers, phthalates or silicones.
Care & use
A rich body oil that can be used dry or damp. Generously massage into skin for a moisturizing full body glow.

Can be used before or after bathing:
Apply before showering – this forms a barrier so that washing doesn't strip away too much of your skin's natural oil.
Or, use after showering and KWENCH Sugar Scrub for ultimate moisture.
Full ingredients
Medium chain triglycerides, isoamyl laurate, Prunus armeniaca (Apricot) kernel oil, Persea gratissima (Avocado) oil, squalane, fragrance, Helianthus annuus (Sunflower) seed oil, Sambucus nigra fruit extract, fragrance, Calendula officinalis (Calendula) flower extract, Helianthus annuus (Sunflower) flower extract, Aloe barbadensis (Aloe vera) leaf extract, Chondrus crispus (Irish moss) extract, Althaea officinalis (Marshmallow) root extract, Lupinus albus seed extract, tetrahexyldecyl ascorbate, Rosmarinus officinalis (Rosemary) leaf
----------------------------------
----------------------------------------
FREE US shipping on orders over $80
Checking local pickup availability
Our commitment to you
Power from Plants
KWENCH Body Oil is blend of botanical ingredients to sooth your skin.
We steer clear of these endocrine disruptors.
This product is free from toxins including silicones, parabens, mineral oil and formaldehyde.
Our Body Oil harnesses the power of botanicals in this power-packed formula.
Dermatologist Recommended
"This lightweight body oil with avocado and coconut oils and olive squalane moisturized my skin and left it feeling soft and smooth, not greasy. It absorbed quickly, leaving a radiant glow on my skin that lasted."
~Dr. Jennifer Trent, MD FAAD
Our vegan KWENCH body oils are packed full of skin moisturizing and hydrating botanical ingredients with three superstar ingredients: Lupin Seed Extract, Oil-soluble Vitamin C and Olive Squalane.
Featured ingredients
Hardworking superstars
This powerful little seed is an anti-aging and firming ingredient that promotes collagen production to help increase elasticity and firmness in the skin. It is made from the lupine plants which is cultivated using sustainable agricultural practices in France. Collagen is a protein found in the body that helps to repair damage to the skin, maintain skin's elasticity and hydration, combat the formation of wrinkles, and give an overall youthful glow. Collagen is naturally produced in the body, but production slows down with age. This seed extract helps the body product high-quality collagen.
This superpower oil-soluble Vitamin C with numerous skin benefits penetrates the skin better and faster than traditional L-ascorbic acid. It's a more stable Vitamin C that promotes the appearance of a brighter, more even-looking skin tone and reduces the appearance of wrinkles and fine lines.
Squalane mimics the structure of natural skin oil, allowing it to be absorbed easily. Because it is similar to the structure of natural skin oil, it is easily absorbed, highly moisturizing and hydrating and is recommended for all skin types. This hydrating emollient locks in moisture and helps replenish the lack of moisture while reducing rough patches and flaking to make skin soft and smooth.
FIND YOUR SCENT
Can't decide on your scent, grab some scent samples today!
Scent Samples
Urthy Scent Samples
Show more
Can't decide which scent to choose? Try them all! These are scent samples for 

ALL

our products from Bath Bombs to Candles to Body Oil to Eau de Parfum.
KWENCH
Use right after you shower. Our two favorite ways are to spray directly on the skin or spray in your hands then apply to skin while still slights damp to lock in moisture.
~ PRO TIP ~
On non-shower days, rub a bit of warm water on your skin prior to applying the body oil. This is best done in sections. Start with a leg...add a touch of warm water then apply the body oil for idea moisture.
Damp skin is more receptive to oils, meaning better absorption as the oil locks in the water on the skin, securing hydrations and moisture...perfect for a fast fix!